Regular Price:
$99.00
A One Time Payment of

$67.00



(33% Savings)
Or
4 Monthly Payments of

$24.95
Bonjour,
C'est Adrien, the voice behind the JeFrench videos… Are you ready to take it to the next step?
Join me for 16 weeks of French lessons and French immersion. Learn all the essentials of the French grammar, conjugation and useful vocabulary. You will also learn tons of practical expressions and build a strong foundation in French.
If you enjoyed the JeFrench videos, you will feel right at home with this new series of video lessons. We will start from the beginning and quickly move up to intermediate French. Practice makes perfect and that's what I'm offering you today… and over the next 4 months!

I just can't thank you enough.
I've always been fascinated by the process of language learning. I have realized for many years that the only viable near-substitute for private one-on-one lessons would be videos by a skilled teacher who embodies simplicity, clarity, and continuously engages the student in the process.
You are that teacher. THANK YOU.

Rosemarie Bria New York, USA
You Will Learn:
Tons of vocabulary and common expressions
All the essential grammar rules to sound good in French
How to have Real conversations with Real People
How to conjugate French verbs automatically
How to navigate through the gender, singular and plural of nouns
Everything you need to know about French adjectives, pronouns and adverbs
All the different ways to ask questions and answer them properly
The order of things in French sentences (it's different than in English)
And much more…
Thank you SO much! Your videos are VERY helpful!
I live in Chicago, Illinois, so learning French is just a hobby for me, but your videos are just so entertaining and easy to understand, its difficult not to get absorbed in the language!
THANK YOU for all of your hard work! Its shows that you really put effort and time into these lessons! I just want you to know that people DO appreciate it.
Thanks again!

Marcos Estevan. Chicago, Illinois USA
Every Week You Will Receive 3 Videos:
Module 1
A 20-minute Grammar video lesson where we break things up and learn the why of things. This will give you the freedom to move beyond just memorizing a few sentences. You will be able to form sentences on your own and avoid the common pitfalls of the French language. French is a grammatical language. Once you know some simple grammar rules, you have the keys to the French language. NEW: A PDF with lesson summary and exercises is attached to each grammar lesson.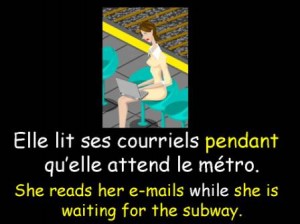 Module 2
A 20-minute Conjugation video lesson. You can't have a real conversation if you only know the present tense. You will learn how to easily conjugate 100′s of commonly used French verbs in the present, past and future tenses. You will even learn how to give commands in French and ask for things politely with the conditional. We keep things fun and fast. We also put the verbs in context in sentences.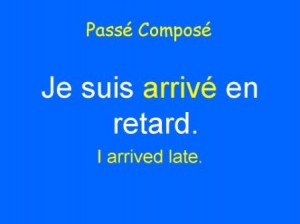 Module 3
A 20-minute Practice video. This where we put it all together in practical sentences and conversations. You get to practice your pronunciation, learn vocabulary and apply what you've learned in the grammar and conjugation videos. I am known to inject a little humor in the videos to keep you coming back and keep things fun.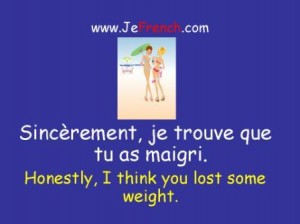 I just wanted to express my gratitude to you for the wonderful French lessons. I am learning so much and the videos are well presented, very informative and fun. Worth every penny and more.
I will recommend to anyone learning French. As I am coming to the end of the 16 week course I am looking forward to going through the course again from the beginning as I'm sure I can get more from the videos going through them again.
And of course looking forward to the review videos after week 16.
Again thanks for your hard work, enthusiasm and creativity in putting this course together.
All the best

Mark Hutchinson Wimborne, United Kingdom
My Teaching Method:
I mix the essentials of Grammar, Conjugation and Vocabulary in some visually entertaining videos. I give you the nuts and bolts of the French language so that you have a good foundation. We then apply what we've learned in many different sentences.
The lessons span over 16 weeks so we have the time to really learn lots of vocabulary and useful phrases. Every week, we build on what we've already learned. You will learn the same things I teach my students in my private lessons… for a fraction of the cost. By repeating after me in the videos, you will naturally adapt your pronunciation to mine and sound more and more like a true Parisian.
In just a few weeks… you will make real progress. Thanks to the internet and videos, you can learn with me, a real French native, from the comfort of your home. French is a great language but it can seem a little complicated at first. I teach you in a way that you will understand the grammar rules AND be able to dramatically improve your French pronunciation.
We will also break apart French conversations. I will show you the difference between how the French people speak in everyday life and the way we write French. In the end, you will be able to have REAL conversations with REAL French people.

Special Bonuses:
Bonus 1 Another 16 Weeks of Review Videos
To make sure you really retain what you learn, I will send you an additional review video every week (for another 16 weeks) totally free after you finish your lessons.
Each review video will be 20 minutes long and will include some new vocabulary and expressions.
That's another 16 weeks of Free videos for a total of 64 lessons.
Bonus 2 All the Mini Lessons
Instant access to all the mini lessons.
The mini lessons are a great way to learn new vocabulary and expressions. (downloads included)
Bonus 3 100 FREE Audio Lessons
You can download them on your PC, Laptop, MP3 player, iPod, iPhone, etc…
Listen to them on your way to work or anywhere.
This is a great way to complement the video lessons and immerse yourself in the French language.
Bonus 4 Full E-mail Support with me.
Have a question about the lessons or need help with something specific in French?
E-mail me and I will respond to you personally and make sure you get it right.
Limited Time Offer:
The regular price of $99 is already a great deal. I've been told I could easily charge more for what I am offering. Others are charging much more for simple audio lessons.
Right now I am offering the 16 weeks of lessons and the 16 weeks of review videos for only $67 (33% OFF) or you can select the option of 4 monthly payments of $24.95.
This special offer may be taken down any time. So don't wait and join me today. Many students have already told me that this is a bargain.

My Personal Guarantee
Try it for 60 days and if you're not completely satisfied, just ask for a full refund. I will happily refund your payment. You can keep the lessons you already received.
No questions asked. No ifs, no buts. I only want happy students. Just e-mail me at Support@JeFrench.com and I will promptly issue your refund.

Regular Price:
$99.00
A One Time Payment of

$67.00



(33% Savings)
Or
4 Monthly Payments of

$24.95
A bientôt,
Adrien Matt
P.S.: Every new lesson has links to the previous lessons. So you can learn at your own pace. You can always go back to the previous lessons and start again where you left off. Start today.
P.P.S.: This offer is only available for a limited time. The price may go back up anytime, any day. So don't wait! Try it risk free and join me now for your first lesson.

I am so enjoying the lessons and learning at a far deeper rate… I usually go over the lessons twice to make sure it sinks in.
Thank you for the chance of these lessons Adrien, it's wonderful, so very enjoyable.
Merci beaucoup,

Sue Wright. Somerset, United Kingdom